Recently read: "The Girl with the Dragon Tattoo" (Millenium 1) by Stieg Larsson
"Män som hatar kvinnor" (Swedish for "Men who hate women," renamed in the English translation as The Girl with the Dragon Tattoo) is an award-winning novel by the late Swedish author and journalist Stieg Larsson, the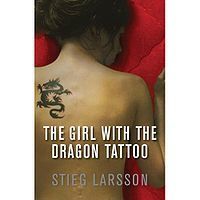 first in his "Millennium Trilogy".
At his sudden death in November 2004 he left three unpublished novels that made up the trilogy. It became a posthumous best-seller in Europe.
The first of the Millenium Trilogy is an epic tale of serial murder and corporate trickery spanning several continents, the novel takes in complicated international financial fraud and the buried evil past of a wealthy Swedish industrial family. Through its main character, it also references classic forbears of the crime thriller genre while stylistically follows and mixes aspects of the sub-genres.

A middle-aged journalist, Mikael Blomkvist, publishes the magazine Millennium in Stockholm. He is hired one day by Henrik Vanger, the aged former CEO of a group of companies owned by a wealthy dynasty, in order to chronicle the family history. His real mission, however, is to solve a cold case - the disappearance, some forty years previously, of Vanger's great-niece when she was sixteen. Blomkvist encounters "the old Miss Marple closed-ro
om scenario" with all the wealthy suspects marooned on the family estate on an island; a village we grow familiar with, full of hostile locals peering out from behind their curtains". The real main character of the story is Lisbeth Salander, an asocial punk who has been victimized by authorities throughout her whole life. By accident she meets Blomkvist and the unlikely couple become another classic detective pair where the hunters become the hunted.
The opening courtroom drama where Blomkvist as publisher loses a libel case brought by corrupt Swedish industrialist Hans-Erik Wennerström, has serious repercussions for his Millennium magazine's future.
Blomkvist reads crime novelists Sue Grafton, Val McDermid and Elizabeth George and enjoys amateur sleuthing and investigative journalism. Later, he is asked to investigate a family mystery by Henrik Vanger, the elderly scion of a wealthy but dysfunctional family. Henrik has questions about the disappearance of his 16-year-old great-niece Harriet 40 years before. Harriet had given Henrik a present of pressed flowers since she was eight years old. On Henrik's birthday the year after Harriet's death, he had received an unusual present of pressed flower. He continued to receive the present of pressed flowers every year thereafter on his birthday from various parts of the world, which he believes to be sent by the killer. Blomkvist is certain that he can discover nothing new, but delving into family secrets produces shocking results. When he teams up with Salander they shed disturbing light on the four decade long puzzle.[
The historic scenario of a locked-room mystery applies since the island on that fateful day was cut-off due to a road-tanker crash on the only bridge that connects the inhabitants to the mainland. Henrik Vanger believes that Harriet (his brother's granddaughter) was murdered by one of his family members, as the island was sealed from the mainland when she vanished. In disgrace due to losing his libel defense, Blomkvist takes on the Vanger case when the old man offers him not only to help his financially strapped magazine, but also promises to give him information to prove Wennerström is corrupt. His cover is spending a year writing the Vanger family history.
Pour être informé des derniers articles, inscrivez vous :